Current Indicator Threat Grade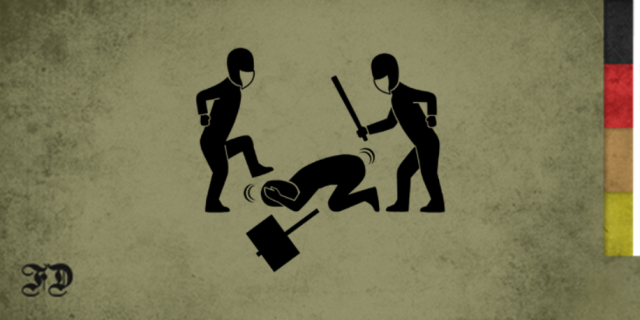 LOW
Unofficial, speculative, or topical news is evident at this time. No immediate danger is apparent.
BRUTAL POLITICAL VIOLENCE ENSUES
This indicator covers extraordinarily brutal, planned attacks based on a political motive.
Background on this indicator will be provided here in the near future.
News relevant to this indicator that emerges from open sources may lead to threatening conditions for the American Nation. The team at FutureDanger will provide a clear explanation of these risks as soon as possible.
Developed by FutureDanger

| Grade | Date | Headline | Source |
| --- | --- | --- | --- |
| LOW | 14 May 2019 | Arson on 2 Homes owned by SC Gov | [The State] |
| LOW | 06 Dec 2018 | Martin Armstrong: Will the 2020 Presidential Election Be the Most Violent in American History? | [Armstrong Economics] |
| HIGH | 29 Oct 2018 | Gunman Shoots out Windows of GOP Office in Florida | [Daily Caller] |
| SEVERE | 28 Oct 2018 | Deadliest Anti-semitic Attack in US History... | [Yahoo] |
| SEVERE | 27 Oct 2018 | Gunman Attacks Pittsburgh Synagogue, Killing 11 | [KSL] |
| LOW | 26 Oct 2018 | Suspected MAGA Fake Bomber ID'd as 'Native American Trump Supporting' Florida Man | [UK Metro] |
| LOW | 25 Oct 2018 | 2019 Is Shaping Up to Be an Ugly, Brutal Year… | [Forward Observer] |
| LOW | 25 Oct 2018 | Second Day of Bombs Target Democrats, Critics of Trump | [Reuters] |
| LOW | 24 Oct 2018 | Pipe Bombs Allegedly Mailed to Obama, Clinton and CNN | [NBC] |
| LOW | 24 Oct 2018 | Suspicious Packages Mailed to Ex-Presidents, News Network & White House | [CNBC] |
| LOW | 15 Oct 2018 | NYPD Looks to Charge 9 Proud Boys with Assault for Manhattan Fight | [Daily Beast] |
| LOW | 14 Oct 2018 | Bear Spray, Bloody Brawls at Patriot Prayer March in Portland | [Oregonlive] |
| LOW | 28 Sep 2018 | Antifa Discusses 'Ambush and Assassination' Strategy on Social Media | [PJ Media] |
| LOW | 11 Sep 2018 | Conservative Commentator Forced into Hiding by Rape and Death Threats following Pro-Life Tweet | [PJ Media] |
| LOW | 11 Sep 2018 | Wyoming GOP Office Set on Fire | [Daily Caller] |
| LOW | 11 Sep 2018 | Mass Shooting Threat at Event in Trump Hotel | [UK Daily Mail] |
| LOW | 05 Sep 2018 | 'High Treason' - Deranged Dallas Man Repeatedly Rams Fox Building | [ZeroHedge] |
| MOD | 04 Aug 2018 | Beatings and Blood in Portland | [Gateway Pundit] |
| LOW | 30 Jul 2018 | 'Better Bring Our Own Guns' - Portland Antifa Plotting 'Direct Confrontation' at Pro-Trump Rally | [ZeroHedge] |
| LOW | 30 Jul 2018 | Over 500 Violent Attacks on Trump Supporters since 2016 Election Season | [Gateway Pundit] |
| LOW | 10 Jul 2018 | Reporter forced to flee outside SCOTUS after threats, 'volatile' scene | [NewsBusters] |
| MOD | 04 Jul 2018 | Secret Service Officer assaulted outside White House after Open Borders Rally | [WRC-TV] |
| LOW | 07 Apr 2018 | Professor threatened by armed Antifa group found dead | [ZeroHedge] |
| HIGH | 16 Feb 2018 | Far-left group calls for murdering Republicans as revenge for Florida school shooting | [Infowars] |
| HIGH | 15 Feb 2018 | White Supremacists claim Florida School Killer trained with them... | [Daily Beast] |
| LOW | 14 Feb 2018 | Florida school shooter kills 17, reportedly dressed Antifa/ISIS-like | [Infowars] |
| MOD | 22 Jan 2018 | 56-year-old man hospitalized after being attacked by Antifa | [SHTFplan] |
| LOW | 22 Jan 2018 | 56-year-old man hospitalized after being attacked by Antifa | [SHTFplan] |
| LOW | 06 Jan 2018 | Home of woman who accused Alabama Senate candidate burns; arson investigation underway | [AL.com] |
| LOW | 18 Dec 2017 | Antifa behind deadly Tacoma train wreck? | [Infowars] |
| LOW | 02 Dec 2017 | Antifa beats POTUS supporter in Boston | [Gateway Pundit] |
| LOW | 29 Nov 2017 | Antifa anarchists sabotage train in Washington State | [Gateway Pundit] |
| SHTF | 06 Nov 2017 | 26 shot and killed at Texas church by black-clad murderer who preached atheism | [UK Daily Mail] |
| LOW | 01 Nov 2017 | Antifa insurgency on November 4th... | [TEC] |
| LOW | 24 Oct 2017 | White Lives Matter group multiple Tennessee rallies October 28th | [Tennessean] |
| LOW | 16 Oct 2017 | Pipe bomb reported at Civil War reenactment | [WUSA9] |
| LOW | 06 Oct 2017 | Antifa plans nationwide 'deface Columbus Day' actions | [PJ Media] |
| LOW | 04 Oct 2017 | CLAIM: Video appears to show Vegas shooter at Antifa demonstration | [Youtu] |
| LOW | 02 Oct 2017 | FBI source: Vegas killer found with Antifa literature, photos taken in Mideast | [Infowars] |
| MOD | 16 Sep 2017 | Unrest in St. Louis | [AP] |
| MOD | 14 Sep 2017 | Antifa prepares to 'resist' free speech at UC Berkeley | [Campus Reform] |
| MOD | 11 Sep 2017 | More violent political rallies in Portland, Oregon | [Washington Post] |
| MOD | 28 Aug 2017 | Black-clad antifa attack peaceful right-wing demonstrators in Berkeley | [Washington Post] |
| MOD | 28 Aug 2017 | Threats of political violence rise | [The Hill] |
| MOD | 23 Aug 2017 | Protesters mowed down by car during St. Louis street rally | [Gateway Pundit] |
| MOD | 23 Aug 2017 | UN issues rare 'early warning' for US citing 'alarming racism' trends | [ZeroHedge] |
| MOD | 23 Aug 2017 | Black Trump supporter punched while fleeing Arizona melee | [Mediaite] |
| MOD | 21 Aug 2017 | Christopher Columbus monument vandalized in Baltimore | [Baltimoresun] |
| MOD | 21 Aug 2017 | Confederate Statute attempted bombing in Houston | [Houston Chronicle] |
| LOW | 21 Aug 2017 | Thousands of anti-POTUS protesters expected in Phoenix | [Dailymail] |
| MOD | 19 Aug 2017 | Bull Run reenactments intimidated, shut down | [The Blaze] |
| MOD | 18 Aug 2017 | Jeremiah Johnson: A domestic destabilization is underway | [SHTFplan] |
| MOD | 18 Aug 2017 | Roadblocks, weapons bans in Boston | [Bangordailynews] |
| MOD | 18 Aug 2017 | Gainesville prepares for white nationalist rally | [ClickOrlando] |
| MOD | 18 Aug 2017 | Man pepper sprays 'Soldiers reunion parade' participants in NC | [Wsoctv] |
| HIGH | 18 Aug 2017 | Colleges brace for more violence amid rash of hate on campus | [Hosted] |
| SEVERE | 14 Aug 2017 | Police ordered to stand-down in Charlottesville, paid protesters exposed | [YouTube] |
| SEVERE | 14 Aug 2017 | Anti-Trump activist charged with killing GOP neighbor with 2 shots in the head | [Lifesitenews] |
| SEVERE | 14 Aug 2017 | Antifa flyer from Charlottesville... | [DJT Twitter] |
| SEVERE | 12 Aug 2017 | State of Ermergency in Virginia | [NYT] |
| SEVERE | 12 Aug 2017 | One dead, 19 injured after car plows into protesters during clashes at 'Unite the Right' rally | [Foxnews] |
| HIGH | 15 Jun 2017 | Several shots fired at truck flying 'Make America Great Again' flag on I-465 | [Fox59] |
| HIGH | 14 Jun 2017 | Report: Would-be assassin belonged to 'terminate the Republican party' Facebook group | [Breitbart] |
| MOD | 14 Jun 2017 | Michael Savage predicted 'violence' by 'marginals' day before Congressman shot down | [WND] |
| LOW | 10 Jun 2017 | Anti-Shariah rallies draw out angry opponents... | [WSJ] |
| LOW | 07 Jun 2017 | Portland police confiscate knives, bricks, and brass knuckles at pro-POTUS free speech rally | [SHTFplan] |
| LOW | 02 Jun 2017 | Orlando: Suspicious suitcase found at Pulse Nightclub, portion of Orange Ave closed | [YouTube] |
| LOW | 01 Jun 2017 | America ranked 114th most peaceful nation on Earth | [Washington Times] |
| LOW | 30 May 2017 | Bullets fired into Kentucky newspaper office | [Miami Herald] |
| MOD | 29 Apr 2017 | Portland Rose Parade cancelled amid threats of violence from Antifa | [SHTFplan] |
| LOW | 22 Apr 2017 | There Will Be Blood – Antifa preps for war after Berkeley beat down | [SHTFplan] |
| LOW | 12 Apr 2017 | 6 arrested, 1 hospitalized after violent Syria anti-war protest in Florida | [Jacksonville] |
| LOW | 26 Mar 2017 | Violence erupts at political rally in California | [LA Times] |
| LOW | 24 Mar 2017 | Life of Federal Judge who shut down POTUS travel ban getting threatened | [Hawaii News Now] |
| LOW | 19 Mar 2017 | Anti-POTUS billboard artist receives death threats | [AZcentral] |
| HIGH | 05 Mar 2017 | Berkeley Arrests: 5 for battery, 4 for assault with a deadly weapon... | [Lasvegassun] |
| MOD | 04 Mar 2017 | Previous Attorney General of the United States: Need more 'marching, blood, death on streets' | [WND] |
| LOW | 04 Mar 2017 | California march turns violent | [Reuters] |
| MOD | 03 Mar 2017 | Protesters grab hair, twist neck of college professor as she escorted controversial speaker | [Addisonindependent] |
| LOW | 27 Feb 2017 | POTUS supporter physically attacked outside Oscars | [The Blaze] |
| LOW | 27 Feb 2017 | POTUS supporters living under intimidation in NYC | [WNYW] |
| MOD | 15 Feb 2017 | Congressman's district staffer, 71, knocked unconscious by protestors | [CBS] |
| MOD | 13 Feb 2017 | Inside the Black Bloc militant protest movement | [LA Times] |
| MOD | 09 Feb 2017 | Open borders professor allegedly assaults student in broad daylight on campus | [Campusreform] |
| MOD | 08 Feb 2017 | FBI investigating identities of violent Berkeley rioters | [Breitbart] |
| MOD | 06 Feb 2017 | Anti-POTUS 'resistance' aims to make America 'ungovernable' | [Daily Caller] |
| LOW | 05 Feb 2017 | Political minority forced underground in San Francisco | [CBS] |
| LOW | 01 Feb 2017 | Journalist: Violence against 'racists' to stop POTUS should be tolerated | [Infowars] |
| LOW | 30 Jan 2017 | Anti-POTUS protest in Seattle: 'We need to start killing people' | [Daily Caller] |
| MOD | 19 Jan 2017 | Media warns of inauguration drone bombing, not 'safe' | [Washington Examiner] |
| MOD | 19 Jan 2017 | DC cops prepping for mass arrests at inauguration | [Infowars] |
| MOD | 19 Jan 2017 | Inauguration Disruptor Training Camp Exposed | [Vocativ] |
| MOD | 18 Jan 2017 | Protester sets himself on fire in DC | [UK Daily Mail] |
| MOD | 17 Jan 2017 | Ads across American cities reportedly offer money to inauguration agitators | [ZeroHedge] |
| MOD | 17 Jan 2017 | Video exposes group planning to shut down DC bridges and highways | [ZeroHedge] |
| MOD | 16 Jan 2017 | Arms caches found stashed in DC days before inauguration | [Daily Sheeple] |
| MOD | 16 Jan 2017 | New O'Keefe video: Radicals planning stink bombs at 'Deploraball' | [Breitbart] |
| MOD | 16 Jan 2017 | Anarchists admits goal to 'prevent peaceful transfer of power' | [PJ Media] |