Current Indicator Threat Grade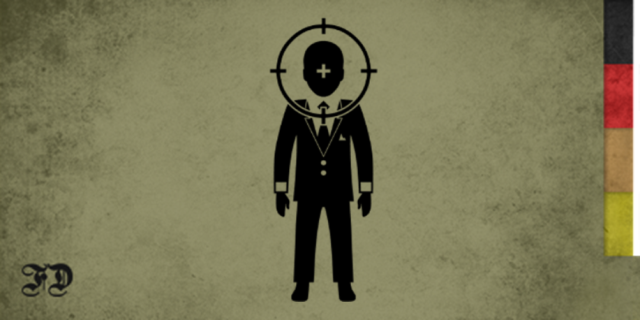 LOW
Unofficial, speculative, or topical news is evident at this time. No immediate danger is apparent.
ELECTED LEADER ASSASSINATED
This involves the coordinated assassination of elected government officials. The higher the office held, and the larger the number targeted, the more dangerous the situation obviously is.
Background on this indicator will be provided here in the near future.
News relevant to this indicator that emerges from open sources may lead to threatening conditions for the American Nation. The team at FutureDanger will provide a clear explanation of these risks as soon as possible.
Developed by FutureDanger

Indicator Historical Trend
1,1,1,1,1,1,1,1,1,1,1,1,1,1,1,1,1,1,1,1,1,1,1,2,1,1,1,1,1,1,1,1,1,1,1,1,1,1,1,1,1,2,1,2,1,1,2,1,1,1,1,1,1,1,3,1,1,2,1,1,1,1,2,2,1,1,1,1,1,1,2,2,1,1,1,2,1,1,1,1
| Grade | Date | Headline | Source |
| --- | --- | --- | --- |
| LOW | 19 Sep 2020 | Package with Ricin Sent to White House, Addressed to President | [Tmz] |
| LOW | 03 Sep 2020 | NY Gov implies a threat to the President's safety if he returns to New York City | [NY Post] |
| LOW | 28 Aug 2020 | Senator's life threatened on DC street | [Breitbart] |
| LOW | 10 Aug 2020 | Shooting outside White House | [Google] |
| LOW | 09 Feb 2020 | Maine Senator Gets Death Threats after Impeachment Acquittal | [MSN] |
| LOW | 23 Nov 2019 | Unauthorized Driver Tries to Pass through White House Checkpoint | [USA Today] |
| LOW | 06 Aug 2019 | Protesters Descend on Senator's Home, Threaten to Stab | [Infowars] |
| LOW | 16 Jul 2019 | Threats against Members Increasing, Capitol Police Chief Says | [Roll Call] |
| LOW | 28 Mar 2019 | Man arrested for threatened to assassinate President and bomb Pentagon | [Breitbart] |
| LOW | 16 Jan 2019 | FBI sting arrests Hasher Jallal Taheb for allegedly plotting to attack the White House | [ABC] |
| LOW | 04 Oct 2018 | Police Boost Security at Capitol Amid Kavanaugh Tension | [Yahoo] |
| LOW | 29 Sep 2018 | Senate Judiciary Members Receive Extra Security following Increased Threats | [Daily Caller] |
| LOW | 03 Sep 2018 | Secret Service: Unidentified Person Arrested after Climbing over White House Fence | [WJLA] |
| LOW | 19 Aug 2018 | Congressman Jokes about President Drowning | [Daily Caller] |
| LOW | 29 Jul 2018 | Man Arrested for Threatening to Kill Congresswoman | [Epoch Times] |
| LOW | 22 Jul 2018 | US Fighter Jet Intercepts Small Plane near Trump Golf Resort | [Sacramento Bee] |
| LOW | 13 Jul 2018 | Protester Paraglides over POTUS Head under Noses of Elite British Snipers | [UK Sun] |
| LOW | 12 Jul 2018 | Three Men Arrested in Unrelated Attempted Breaches of White House, Capitol Grounds | [Laredo Morning Times] |
| LOW | 02 Jul 2018 | Man allegedly threatens to chop up Senator and his family with an ax | [Courier-Journal] |
| LOW | 26 Jun 2018 | Capitol police extending Congressional member security | [Roll Call] |
| LOW | 20 Jun 2018 | Manhunt on for Pennsylvania man accused of threatening to kill POTUS | [CBS] |
| LOW | 12 Jun 2018 | Threats against Congress members skyrocket | [NY Post] |
| LOW | 18 May 2018 | Active shooter at President's golf resort in Florida | [CBS] |
| LOW | 29 Apr 2018 | Congressman suggests Republicans are retiring en masse because of assassination fears | [Roll Call] |
| LOW | 29 Apr 2018 | Congressman suggests Republicans are retiring en masse because of assassination fears | [Roll Call] |
| LOW | 12 Apr 2018 | New presidential limousine with Secret Service set to transport | [Fox News] |
| LOW | 24 Mar 2018 | Man arrested for threatening to murder Virginian Congressman | [Politico] |
| LOW | 03 Mar 2018 | White House locked down for Suicide | [UK Daily Mail] |
| LOW | 23 Jan 2018 | Man with loaded gun inside vehicle arrested outside White House | [WJLA] |
| LOW | 06 Jan 2018 | Utah man accused of threatening to kill President | [CNN] |
| LOW | 22 Dec 2017 | POTUS 44 Aide wishes for VPOTUS, Senate Majority Leader and House Speaker's deaths | [Daily Caller] |
| LOW | 20 Dec 2017 | National Guardsman admits threatening the Vice President | [Stars & Stripes] |
| LOW | 30 Nov 2017 | Senator allegedly threatened with murder over net neutrality | [Breitbart] |
| LOW | 25 Nov 2017 | Van driver tries to cut into presidential motorcade | [Politico] |
| LOW | 10 Nov 2017 | Kentucky Senator's injuries remain shrouded in mystery | [Washington Post] |
| SEVERE | 04 Nov 2017 | Senator assaulted by intruder at Kentucky home | [ZeroHedge] |
| LOW | 03 Nov 2017 | Man arrested for claiming he had explosives near White House | [WJLA] |
| LOW | 18 Aug 2017 | Missouri lawmaker makes Trump assassination post | [Kansas City Star] |
| LOW | 13 Aug 2017 | Death threat against Florida Senator from Venezuelan Govt | [Miami Herald] |
| LOW | 22 Jul 2017 | Man charged with threatening to kill Texan Senator and members of his family | [Expressnews] |
| LOW | 09 Jul 2017 | Nebraska man accused of threatening Iowa Senator | [Omaha World-Herald] |
| HIGH | 06 Jul 2017 | Kathy Griffin questioned by Secret Service | [Daily Caller] |
| LOW | 05 Jul 2017 | Illinois lawmaker gets death threat for approving tax hike | [Wrex] |
| HIGH | 05 Jul 2017 | House Majority Whip readmitted to intensive care unit, in 'serious' condition | [Washington Examiner] |
| LOW | 04 Jul 2017 | Californian State Senator gets death threats for stopping single-payer | [The American Conservative] |
| MOD | 23 Jun 2017 | Nebraska Dem official ousted after voicing how glad he was House Majority Whip got shot | [Fox42kptm] |
| MOD | 23 Jun 2017 | 30 GOP Congressmen have been attacked or threatened since May | [Washington Free Beacon] |
| LOW | 22 Jun 2017 | Illinois man arrested for threatening Presidential Assassination | [ZeroHedge] |
| SEVERE | 17 Jun 2017 | House Majority Whip shooter had assassination list | [Daily Caller] |
| SEVERE | 14 Jun 2017 | Scalise in Critical Condition: Fractured bones, injured organs, multiple transfusions, unconscious | [Wgno] |
| SEVERE | 14 Jun 2017 | House Majority Whip Gunned Down in Virginia | [Fox News] |
| LOW | 02 Jun 2017 | Comedienne confirmed she has been contacted Secret Service, fears arrest | [Fox News] |
| LOW | 31 May 2017 | Man arrested at Trump Hotel near White House with firearms | [ZeroHedge] |
| LOW | 29 May 2017 | Texas Rep threatens to kill colleague on legislative floor after he called ICE on illegals | [SHTFplan] |
| LOW | 24 May 2017 | CNN talking head suggests violence against Congressman | [Breitbart] |
| LOW | 22 May 2017 | Congressman who wants impeachment receives death threat | [Voice-online] |
| LOW | 21 May 2017 | GOP House members fearing for their safety as threats mount | [The Hill] |
| LOW | 20 May 2017 | House seeks panic buttons, spy cameras at members' offices back home | [WRC-TV] |
| LOW | 16 May 2017 | Woman ran Congressman off road over health care vote | [Theantimedia] |
| LOW | 16 May 2017 | White House locked down after fence jumped again, suspect in custody | [ZeroHedge] |
| LOW | 16 May 2017 | FBI arrests man over threats to Arizona Congresswoman | [Tucson] |
| LOW | 12 May 2017 | Capitol police probing death threats against Virginian Congressman | [Whsv] |
| LOW | 04 May 2017 | Leak reveals internet media company director wishing for POTUS assassination | [Big League Politics] |
| LOW | 09 Apr 2017 | Manhunt: Feds search for armed suspect who mailed threat to POTUS | [UPI] |
| LOW | 09 Apr 2017 | Fresno State Professor tweets 'Trump must hang' | [Daily Caller] |
| LOW | 28 Mar 2017 | White House bomb scare evac | [UK Sun] |
| LOW | 22 Mar 2017 | Another White House fence jumper gets caught ... literally | [Tmz] |
| LOW | 20 Mar 2017 | Surveillance video: Trump Tower floor plan thief knew what he was after... | [Tmz] |
| LOW | 19 Mar 2017 | Job Opening: Position of Secret Service agent who won't take 'a bullet' for POTUS listed as available | [Washington Examiner] |
| LOW | 18 Mar 2017 | Another attempt... | [Fox News] |
| LOW | 18 Mar 2017 | Secret Service let man jump White House fence, roam undetected for 17 minutes with backpack | [NYT] |
| LOW | 17 Mar 2017 | Laptop with Trump Tower floor plans stolen from Secret Service agent | [NY Daily News] |
| LOW | 17 Mar 2017 | Kristen Tate: Violent threats against the President are ok now? | [The Hill] |
| LOW | 12 Mar 2017 | Former Secret Service agent warns POTUS 'not secure' in White House | [Breitbart] |
| LOW | 11 Mar 2017 | Intruder with backpack breaches White House grounds at night | [CNN] |
| LOW | 20 Feb 2017 | Fighters again scrambled to enforce no-fly zone around POTUS's palm beach home | [Orlandosentinel] |
| LOW | 18 Feb 2017 | F-15s intercept stray plane over Florida airspace restricted to secure POTUS | [Fox News] |
| LOW | 15 Feb 2017 | College socialist club urges young children to 'kill Donald Trump' | [Campus Reform] |
| LOW | 11 Feb 2017 | Congress setting up 'civil disturbance units' to protect themselves at their district offices | [Washington Examiner] |
| LOW | 08 Feb 2017 | Private plane gets within 2 nautical miles to Air Force One | [Bloomberg] |
| LOW | 08 Feb 2017 | Violent pro-Obamacare protesters pose threat to GOP Congress Members | [Politico] |
| LOW | 03 Feb 2017 | Secret Service denies reports of top-level resignations at White House | [Washington Examiner] |
| LOW | 03 Feb 2017 | Over 12,000 tweets call for POTUS assassination | [Mashable] |
| LOW | 02 Feb 2017 | TX State Rep gets police protection after death threats upon filing pro-life bill | [Patch] |
| LOW | 28 Jan 2017 | High school teacher stages mock assassination of the President | [Fox News] |
| LOW | 26 Jan 2017 | German paper editor: Murder easiest way to end 'Trump catastrophe' | [Daily Caller] |
| LOW | 24 Jan 2017 | Former Secret Service officer: Madonna's 'bomb the White House' speech could motivate others to act | [Breitbart] |
| LOW | 24 Jan 2017 | Senior Secret Service agent suggests she wouldn't take 'a bullet' for POTUS | [Washington Examiner] |
| LOW | 21 Jan 2017 | Madonna: 'I have thought an awful lot about blowing up the White House' | [YouTube] |
| LOW | 19 Jan 2017 | CNN slammed for encouraging violence with bizarre 'designated survivor' report | [Infowars] |
| LOW | 18 Jan 2017 | Florida man charged for PEOTUS death threat | [Miami Herald] |
| LOW | 17 Jan 2017 | Secret Service Chief: People today willing to do things they may not have in past | [WTOP] |