Current Indicator Threat Grade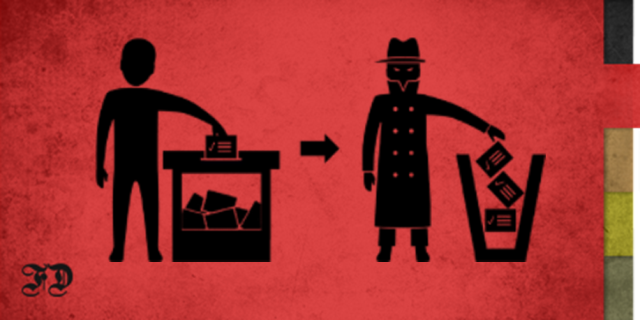 SEVERE
Widely evident news and/or official confirmations of this indicator are evident. Consider this in combination with the current grade of other active indicators on the Heatmap Dashboard.
ELECTIONS are STOLEN
The FutureDanger Indicator System contains nearly 500 predefined conditions or possible events. As our team fulfills it mission, check back soon for a thorough description of this one.
Background on this indicator will be provided here in the near future.
News relevant to this indicator that emerges from open sources may lead to threatening conditions for the American Nation. The team at FutureDanger will provide a clear explanation of these risks as soon as possible.
Developed by FutureDanger

Indicator Historical Trend
1,2,1,1,1,1,2,1,1,1,1,1,1,2,1,2,1,2,1,2,2,1,2,1,1,1,1,1,1,1,1,1,1,1,1,1,2,1,1,1,1,1,1,1,1,1,2,1,2,2,1,1,2,1,2,1,1,1,1,1,2,3,1,1,1,2,1,1,1,1,1,1,1,1,1,1,2,1,6,5,1,1,4,1,4,1,1,2,1,2,5,1,1,1,1,1,2,5,2,9,1,3,1,4,12,13,1,1,2,1,4,1,1,1,2,1,1,2,1,1,1,3,1,1,3,1,1,1,1,1,1,1,3,1,1,1,3,1,1,1,1,1,1,1,1,1,1,1,1,1,1,1,2,1,1,1,1,1,2,1
| Grade | Date | Headline | Source |
| --- | --- | --- | --- |
| SEVERE | 05 Dec 2023 | Judge Voids Democrat Election Win Due to Fraudulent Ballots | [The National Pulse] |
| MOD | 07 Nov 2023 | NJ Democrats Charged with Election Fraud Linked to Mail-In Ballots | [Natural News] |
| LOW | 07 Nov 2023 | Voting Machines in Pennsylvania County Flip Votes | [WHTM] |
| LOW | 30 Oct 2023 | Colorado Court Hears Arguments to Block Trump from Ballot | [Breitbart] |
| LOW | 27 Sep 2023 | FBI Refuses to Release Documents in Probe into Possible Nationwide Voter Registration Fraud | [JusttheNews.com] |
| MOD | 18 Sep 2023 | Connecticut Democrats Caught Dumping Multiple Illegal Absentee Ballots into a Drop Box | [Gateway Pundit] |
| MOD | 13 Sep 2023 | California Attorney Files Lawsuit to Bar POTUS 45 from 2024 Ballot | [Breitbart] |
| MOD | 08 Sep 2023 | Court Finds Arizona Secretary of State Used Unlawful Absentee Ballot Signature Matching | [ZeroHedge] |
| MOD | 08 Sep 2023 | Full List of States Where POTUS 45 Could Be Kicked off the Ballot | [Newsweek] |
| LOW | 04 Sep 2023 | Attempt to Bar POTUS 45 from 2024 Ballot Gains Steam | [Fox News] |
| LOW | 03 Aug 2023 | Trump Lawyer: 3rd Indictment 'Opens Door' to More Scrutiny of 2020 Election | [ZeroHedge] |
| LOW | 27 Jul 2023 | Secretive executive order by President to expand 'voter participation' in elections | [Real Clear Wire] |
| LOW | 05 Jun 2023 | North Miami Beach Arrested over Voter Fraud | [The Blaze] |
| LOW | 22 Jan 2023 | Election Integrity Watchdog Finds California Lost 10.9 Million Mail-In Ballots in 2022 Midterms | [ZeroHedge] |
| SEVERE | 06 Jan 2023 | 150,000 Votes in 2020 Election Found Not Tied to Valid Addresses in Wisconsin | [ZeroHedge] |
| MOD | 20 Dec 2022 | Georgia Supreme Court Sends 2020 Fulton County Election Lawsuit Back to Appeals Court to Reconsider | [JusttheNews.com] |
| MOD | 20 Dec 2022 | Arizona Governor Election Fraud Lawsuit Goes to Trial This Week | [CD media] |
| LOW | 15 Dec 2022 | Vote Recount Flips Massachusetts Midterm Race from Republican to Democrat by 1 Vote | [ZeroHedge] |
| SHTF | 12 Dec 2022 | 25,000 Ballots Added to Maricopa County's Vote Totals after Election Day | [Gateway Pundit] |
| SHTF | 12 Dec 2022 | FBI Interference in 2020 Election Shown in 'Twitter Files' | [National Review] |
| LOW | 13 Nov 2022 | Arizona Totals for Governor Unchanged for Days as Ballots Go Uncounted | [National File] |
| LOW | 11 Nov 2022 | Cameras Go Dark at Vote Counting Facility in Key Nevada County | [ZeroHedge] |
| LOW | 11 Nov 2022 | Maricopa County to Take until 'Early Next Week' to Process 400,000 Ballots | [ZeroHedge] |
| LOW | 10 Nov 2022 | Ballots Go Missing after Dominion Voting Machine Disaster | [Western Journalism] |
| LOW | 09 Nov 2022 | Vote Counting Delayed in Philadelphia | [Townhall] |
| LOW | 09 Nov 2022 | Voting Machine Problems in Midterms Spark Renewed Distrust | [Washington Times] |
| LOW | 08 Nov 2022 | All voting machines go down in Mercer County, NJ | [ABC] |
| LOW | 08 Nov 2022 | Maricopa County reports voting machine problems at 20% of polling locations | [KSAZ] |
| MOD | 30 Oct 2022 | 2020 Census Errors Affect Elections, Aid Blue States, Hurt Red States | [ZeroHedge] |
| MOD | 29 Oct 2022 | 240,000 Unverified Ballots Sent to Pennsylvania Voters Who Aren't Required to Produce ID | [The Blaze] |
| LOW | 29 Oct 2022 | Ballot-Harvesting Operation Uncovered in Orlando | [Washington Times] |
| HIGH | 21 Oct 2022 | Arizona City Council Member Indicted for 2020 Ballot Harvesting Scheme | [Epoch Times] |
| LOW | 18 Oct 2022 | Georgia Smashes Record for Early Voting | [The Hill] |
| LOW | 30 Sep 2022 | Minnesota Counties Sued for Duplicate Voter Registrations | [ZeroHedge] |
| HIGH | 22 Sep 2022 | Pennsylvania County Sues Dominion Voting Systems over Alleged 'Severe Anomalies' in 2020 Voter Data | [JusttheNews.com] |
| MOD | 20 Sep 2022 | Pennsylvania County Sued over Illegal Ballot Drop Box Usage Captured on Camera | [Epoch Times] |
| LOW | 02 Sep 2022 | NSA Mobilizes 'Election Security Group' To 'Protect' Midterms from 'Foreign Threats' | [Slay News] |
| MOD | 08 Aug 2022 | Maryland County to Decertify Primary Results and Rescan | [Washington Times] |
| MOD | 31 Jul 2022 | Election Observers Won't Be Allowed to View Vote-Counting in LA District Attorney Recall | [Epoch Times] |
| LOW | 20 Jun 2022 | Texas Woman Convicted of 26 Counts of Voter Fraud | [Breitbart] |
| HIGH | 09 Jun 2022 | Former House Rep Pleads Guilty to Ballot-Stuffing in Five Elections | [ZeroHedge] |
| HIGH | 07 Jun 2022 | More than 8,000 Double-Registered Voters Found on New Jersey Rolls | [ZeroHedge] |
| SEVERE | 04 Jun 2022 | Hand-Count Exposes Voting Machines off by Thousands in Georgia | [Western Journalism] |
| LOW | 31 May 2022 | DHS warns voting software vulnerable in some States | [AP] |
| SEVERE | 13 May 2022 | Sheriff of Arizona County Featured in '2000 Mules' Announces 2020 Voting Fraud Investigations | [JusttheNews.com] |
| SEVERE | 13 May 2022 | Tampered Ballot Images Indicate Significant Voter Fraud in Georgia | [OANN] |
| SEVERE | 12 May 2022 | 2000 Mules Becomes the Most Successful Political Documentary in a Decade, Seen by 1 Million | [Yahoo] |
| SEVERE | 10 May 2022 | Woman Finds US Postal Bin Filled with over 100 Mail-in-Ballots for Upcoming Election | [100PercentFedUp] |
| SEVERE | 09 May 2022 | Michigan Police Seize Voting Machine during Investigation into Possible Election Breaches | [ZeroHedge] |
| HIGH | 07 Apr 2022 | AZ AG Releases Report Finding 'Fraud' and Problems with Handling of over 100k Mail-In Ballots in Maricopa County | [Western Journalism] |
| MOD | 11 Mar 2022 | Illinois Illegally Denied Elections Group Access to Voter Records, Federal Court Rules | [ZeroHedge] |
| LOW | 10 Feb 2022 | BLM Founder to Be Imprisoned 6 Years for Illegally Voting | [GreatGameIndia] |
| LOW | 30 Oct 2021 | Virginia Elections Director Says Tuesday's Results May 'Have to Wait until Friday' Because of Mail-In Votes | [National File] |
| HIGH | 27 Sep 2021 | Arizona Senate Hears of Multiple Inconsistencies Found by Election Audit | [ZeroHedge] |
| LOW | 24 Aug 2021 | Passed out man found with 300 California recall ballots | [AP] |
| SEVERE | 03 Aug 2021 | DOJ Orders States Not to Conduct Arizona-Style Forensic Audits of 2020 Election, Threatens Prison Time | [National File] |
| SEVERE | 03 Aug 2021 | Maricopa County and Vote Counting Software Company Refuse to Comply with AZ Senate Audit Subpoenas | [NewsWars] |
| HIGH | 28 Jul 2021 | Arizona Senate Issues Fresh Subpoenas for 2020 Election Audit | [Epoch Times] |
| HIGH | 27 Jul 2021 | Wisconsin State Representative Orders Cyber-Forensic Examination of 2020 Election | [Western Journalism] |
| HIGH | 27 Jul 2021 | Claim: 157,000+ Illegal Ballots Cast during Wisconsin 2020 Election, within Winning Margin | [National File] |
| SEVERE | 15 Jul 2021 | Cable News Host Airs Evidence of Improperly Duplicated Ballots from 2020 Election | [ZeroHedge] |
| SEVERE | 15 Jul 2021 | Maricopa County Will Not Turn over Routers, Chain of Custody, Ballot Images | [ZeroHedge] |
| MOD | 13 Jul 2021 | Claim: Fulton Recount Had 60% Error Rate; 1000s of Fake Biden Votes Found | [Headline USA] |
| LOW | 30 Jun 2021 | 130,000 'Test-Run' Votes Lead to Unprecedented 'Discrepancy' in New York City Mayoral Race | [ZeroHedge] |
| SEVERE | 15 Jun 2021 | Dekalb County Hiding Records Regarding Receipt of 25M Voter Registration Applications for County of 800K | [CD media] |
| SEVERE | 15 Jun 2021 | Fulton County Unable to Produce All Ballot Drop Box Documents from Last Year's Election | [The Right Scoop] |
| HIGH | 07 Jun 2021 | Claim: 174 batches of ballots, equaling 17,400 votes for Trump, went 'missing' in Georgia | [CD media] |
| HIGH | 24 May 2021 | NH Auditors Say Vote Discrepancies Largely Caused by Ballot Fold Effect | [Epoch Times] |
| HIGH | 24 May 2021 | Judge orders absentee presidential election ballots to be examined for fraud in Fulton County, Georgia | [The Federalist] |
| HIGH | 21 May 2021 | Arizona Secretary of State alleges audited election machines may have been compromised by auditors | [Epoch Times] |
| HIGH | 18 May 2021 | Judge admits 2020 presidential election results in a Michigan County may have been corrupted, dismisses lawsuit anyway | [WND] |
| HIGH | 11 May 2021 | Michigan Judge Considering Request to Dismiss Election-Related Case | [NTD] |
| HIGH | 06 May 2021 | Maricopa County Defies Subpoena, Won't Release Hardware for Election Audit over 'Security Risk' | [ZeroHedge] |
| SEVERE | 23 Mar 2021 | Dekalb County Throwing away Ballots Required to Be Retained by Law for 22 Months | [CD media] |
| SEVERE | 09 Mar 2021 | Georgia Fails to Produce Chain of Custody for 404,000 Absentee Ballots Months after Contested Election | [NewsWars] |
| HIGH | 09 Mar 2021 | POTUS Signs Voting Rights Executive Order to Entrench Fraud into System | [Headline USA] |
| SEVERE | 02 Mar 2021 | Supreme Court Hears First Case Regarding Voting Laws since Election | [Daily Caller] |
| SEVERE | 02 Mar 2021 | SCOTUS Shoots down Sidney Powell Requests on Election Fraud Cases | [New American] |
| SEVERE | 02 Mar 2021 | House Majority Moves to Eliminate Voter ID Requirements | [OANN] |
| SEVERE | 01 Mar 2021 | 4 Arrested in Texas on 150 Counts of Voter Fraud | [ZeroHedge] |
| SEVERE | 26 Feb 2021 | Judge Rules Arizona's Maricopa County Must Turn over 2.1 Million November Election Ballots to Senate | [Epoch Times] |
| LOW | 20 Feb 2021 | Arizona Election Officials May Not Be Able to Hide Machines from Investigation Much Longer | [Western Journalism] |
| SEVERE | 11 Feb 2021 | Hand Recount Finds Voting Machines Shorted Every Republican Candidate in Windham, NH 300 Votes | [CD media] |
| SEVERE | 11 Feb 2021 | Several Election Rigging Cases Moving Forward to Supreme Court | [DC Clothesline] |
| SEVERE | 08 Feb 2021 | Jon Bowne: Mail-In Tyranny – Free and fair elections no longer exist | [NewsWars] |
| SEVERE | 06 Feb 2021 | The Secret History of the Shadow Campaign That Stole the 2020 Election | [Time] |
| SEVERE | 04 Feb 2021 | Maricopa County board refuses to turn over election equipment for Arizona Senate audit | [Bollyinside] |
| SEVERE | 29 Jan 2021 | Democrats Introduce Bill to 'Massively Expand' Mail-In Voting | [Epoch Times] |
| SEVERE | 26 Jan 2021 | 30 Active Cases of Election Fraud Still in Courts | [OANN] |
| HIGH | 25 Jan 2021 | Virginia Circuit Court Rules State Policy Accepting Late Ballots without Postmarks Is Illegal | [Infowars] |
| SEVERE | 13 Jan 2021 | Texas Woman Arrested for Felony Election Fraud, Ballot Harvesting | [Headline USA] |
| SEVERE | 12 Jan 2021 | Judge Approves Discovery Motion in High-Profile Michigan Election Fraud Case | [Epoch Times] |
| SEVERE | 08 Jan 2021 | ABC, CNN Broadcast Real-Time Theft of 32,400 Votes from in Georgia Senate Runoff Election | [Natural News] |
| SEVERE | 07 Jan 2021 | Michigan Print Shop Created Fake Ballots for Pennsylvania, Other Swing States | [DC Clothesline] |
| SEVERE | 06 Jan 2021 | POTUS Lays Out Election Fraud in DC Speech | [BANNED.video] |
| SEVERE | 06 Jan 2021 | Data Scientists Find More than 432,000 Votes Systematically Removed from Trump in Pennsylvania | [Natural News] |
| SEVERE | 04 Jan 2021 | Data Scientists Testify Nearly 18,000 Electronic Votes in Georgia Switched from Trump to Biden | [BizPac Review] |
| SEVERE | 03 Jan 2021 | 30,000 Trump Votes Removed, 12,173 Switched to Biden, 150 Fulton Precincts Had 90% Biden Votes | [100PercentFedUp] |
| SEVERE | 03 Jan 2021 | Probe Turns up Thousands of Fake Voters in Arizona | [Natural News] |
| SEVERE | 03 Jan 2021 | Dominion Voting Systems Partially Owned by Corporations with Ties to Beijing | [Natural News] |
| SEVERE | 03 Jan 2021 | Arizona Has Paper Ballots but No One Can See Them as Law Requires | [CD media] |
| SEVERE | 03 Jan 2021 | Video: Same Batch of Ballots Scanned Five Times in Fulton County | [The Right Scoop] |
| SEVERE | 03 Jan 2021 | Leaked Audio Reveals Dominion Operators Being Trained to Alter Election Results | [Natural News] |
| SEVERE | 31 Dec 2020 | Real-Time Hacking of Dominion Voting Systems at Fulton County Polling Station Revealed | [The Spectator] |
| SEVERE | 31 Dec 2020 | Georgia State Senate Files Report for Record Reconsidering Their Vote Certification | [The Federalist Papers] |
| SEVERE | 31 Dec 2020 | Trump campaign asks Georgia lawmakers to vacate election results | [Fox News] |
| SEVERE | 31 Dec 2020 | Georgia Lawmakers Hear Bombshell Allegations of Election Fraud | [WGCL] |
| SEVERE | 31 Dec 2020 | Trump Campaign Asks Supreme Court to Set Aside Wisconsin's Election | [Epoch Times] |
| SEVERE | 28 Dec 2020 | Pennsylvania: 202,377 more votes cast than voters voting | [WJAC] |
| SEVERE | 15 Dec 2020 | Sharyl Attkisson Breaks Exclusive Forensic Analysis of Dominion Voting Machines in Michigan | [Sharyl Attilkisson] |
| SEVERE | 14 Dec 2020 | Ex-Intel Operators Say Dominion Machines 'Intentionally and Purposefully' Flipped Votes to Biden | [Infowars] |
| SEVERE | 14 Dec 2020 | Crucial Logs Missing from Michigan Dominion Voting Machines | [The Jewish Voice] |
| SEVERE | 14 Dec 2020 | 1.8 million extra 'ghost votes' suspected across more than 350 counties in 29 states | [Washington Times] |
| SEVERE | 14 Dec 2020 | Absentee ballot signature audit ordered after Georgia election | [Atlanta Journal-Constitution] |
| SEVERE | 10 Dec 2020 | Claim: FBI Criminal Probing 500,000 Counterfeit Biden Ballots in Four States | [True Pundit] |
| SEVERE | 09 Dec 2020 | 18 States Request Supreme Court to Overturn Unconstitutional Federal Elections in 4 States | [Dallas News] |
| SEVERE | 09 Dec 2020 | Texas Files Lawsuit against Four Swing States for Election Fraud | [UncoverDC] |
| SEVERE | 09 Dec 2020 | Texas AG Explains SCOTUS Election Case Hinges on US Constitution | [Infowars] |
| SEVERE | 09 Dec 2020 | Michigan Judge Orders Forensic Audit of Dominion Machines and Tabulators | [UncoverDC] |
| SEVERE | 06 Dec 2020 | Dekalb County Cannot Find Chain of Custody Records for Absentee Ballots | [Canada Free Press] |
| SEVERE | 04 Dec 2020 | Witness Alleges Nevada Voting Machine USB Drives Had Totals Altered Overnight | [Epoch Times] |
| SEVERE | 03 Dec 2020 | Video Shows Georgia Ballots Hidden in Suitcases, Counted in Secret | [Townhall] |
| SEVERE | 03 Dec 2020 | Video of Georgia Poll Workers Sparks Election Fraud Outrage | [ZeroHedge] |
| SEVERE | 02 Dec 2020 | Dominion Whistleblower Testifies on 'Complete Fraud' at Detroit Voting Center | [ZeroHedge] |
| SEVERE | 01 Dec 2020 | Trump Arizona Ballots Aledeged to Have Been Switched to Biden Votes on Dominion System | [Epoch Times] |
| SEVERE | 01 Dec 2020 | A Compilation of Twenty Alleged Election 'Facts' That Don't Pass the Smell Test | [American Thinker] |
| SEVERE | 30 Nov 2020 | Pennsylvania Lawmakers Formally Introduce Resolution to Dispute 2020 Elections Results | [ZeroHedge] |
| SEVERE | 30 Nov 2020 | Georgia Secretary of State Suddenly Concerned about Illegal Out-of-State Votes | [ZeroHedge] |
| SEVERE | 30 Nov 2020 | Data Analyst Says More Illegal Votes in Arizona than Biden Margin of Victory | [ZeroHedge] |
| SEVERE | 30 Nov 2020 | Judge Freezes Voting Machines in 3 Georgia Counties | [Politico] |
| SEVERE | 30 Nov 2020 | Georgia Judge Issues Restraining Order against Erasing Dominion Voting Machines | [ZeroHedge] |
| HIGH | 28 Nov 2020 | Pennsylvania expansion of mail-in voting ruled illegal | [Bloomberg] |
| HIGH | 25 Nov 2020 | Judge Blocks Certification of Pennsylvania Election Results | [Epoch Times] |
| HIGH | 22 Nov 2020 | Georgia recount formally requested by President's campaign | [Fox News] |
| HIGH | 14 Nov 2020 | Clark County Election Officials Accepted One Person's Signature Eight Times | [Las Vegas Review-Journal] |
| HIGH | 13 Nov 2020 | Georgia: Largest Hand Re-Tally of Ballots in American History Gets Underway | [Epoch Times] |
| HIGH | 12 Nov 2020 | Arizona: Official Overseeing Vote Count Process Previously Tweeted about President's 'Neo-Nazi Base' | [Summit News] |
| HIGH | 12 Nov 2020 | Michigan: Lawsuit Claims 40,000-Plus Fraudulent Ballots Pumped through Detroit for Biden | [The Federalist] |
| HIGH | 11 Nov 2020 | Arizona: Illegal disqualification for 'facial irregularities'... | [Ballotpedia] |
| HIGH | 11 Nov 2020 | Over Two Dozen Lawsuits Filed for Election Misconduct in Arizona, Georgia, Michigan, Nevada, and Pennsylvania | [Ballotpedia] |
| HIGH | 11 Nov 2020 | 234 pages of affidavits... | [Epoch Times] |
| HIGH | 11 Nov 2020 | Georgia Secretary of State Orders Hand Ballot Recount | [CNN] |
| HIGH | 11 Nov 2020 | President Files Emergency Injunction in Michigan Alleging Fraud, Demands Recounts | [Infowars] |
| HIGH | 10 Nov 2020 | Woman Who Voted for Trump in Texas Shocked to Find Record of Her Voting Via Mail-In Ballot in California | [Summit News] |
| HIGH | 10 Nov 2020 | President Files Federal Lawsuit in Michigan over Fraud Allegations | [Washington Examiner] |
| HIGH | 09 Nov 2020 | President sues to block Pennsylvania election result | [AP] |
| HIGH | 09 Nov 2020 | AG Orders Election Fraud Investigations | [AP] |
| HIGH | 09 Nov 2020 | Oregon Secretary of State Fires Elections Director after He Details Problems | [KTVZ] |
| HIGH | 09 Nov 2020 | Detroit Election Worker Affidavit Exposes Order to Backdate Ballots | [ScoopyWeb] |
| HIGH | 09 Nov 2020 | Voter Fraud and Election Meddling Evidence Floods Social Media | [Infowars] |
| HIGH | 09 Nov 2020 | Claim: 450,000 Ballots in Key States Only Show Vote for Biden | [Infowars] |
| HIGH | 09 Nov 2020 | Report: Wisconsin Election Clerks Tampered with Thousands of Ballots | [Infowars] |
| HIGH | 09 Nov 2020 | The Evidence of Fraud Ignored | [Infowars] |
| HIGH | 09 Nov 2020 | Scientist Finds Telltale Signs of Election Fraud after Analyzing Mail-In Ballot Data | [ZeroHedge] |
| MOD | 08 Nov 2020 | Mail Ballots Counted in Absence of Campaign Observers Challenged in Battleground States | [Epoch Times] |
| MOD | 07 Nov 2020 | Georgia Counties Using Same Software as Michigan Counties Also Encounter 'Glitch' | [Breitbart] |
| MOD | 07 Nov 2020 | Minnesota: County Explains Vote Counting Issues, Blames Software | [KTTC] |
| MOD | 07 Nov 2020 | Lawsuit Claims 21,00 Dead People on Pennsylvania Voter Roles | [Law Officer] |
| MOD | 06 Nov 2020 | Alito Orders Late-Arriving Pennsylvania Ballots Segregated | [Bloomberg] |
| MOD | 05 Nov 2020 | Nevada: GOP sends AG criminal referral of least 3,062 instances of voter fraud | [Washington Examiner] |
| MOD | 05 Nov 2020 | Nevada: Mail Worker Caught on Tape Suggesting Voter Fraud | [Hannity.com] |
| MOD | 05 Nov 2020 | Judges in Georgia and Michigan Toss President's Ballot Counting Suits | [Baltimore Sun] |
| MOD | 05 Nov 2020 | Why Does Biden Have so Many More Votes than Democrat Senators in Swing States? | [ZeroHedge] |
| MOD | 04 Nov 2020 | Michigan USPS Worker Blows Whistle on Postmark Scheme to Handstamp Late Ballots | [Project Veritas] |
| LOW | 04 Nov 2020 | Georgia, Pennsylvania Centers Inexplicably Pause Vote Counting | [Daily Caller] |
| LOW | 04 Nov 2020 | Malfeasance Reported at Battleground Polling Stations | [Infowars] |
| LOW | 04 Nov 2020 | Georgia GOP Chair: Fulton County closed, sent observers home, then counted ballots secretly | [Infowars] |
| LOW | 04 Nov 2020 | Video Shows Man Allegedly Setting Fire to 80 Ballots | [Infowars] |
| LOW | 04 Nov 2020 | Workers cite COVID... | [Infowars] |
| LOW | 04 Nov 2020 | Michigan: Detroit absentee ballot counting center windows covered up amid allegations of violations | [DJT Twitter] |
| LOW | 04 Nov 2020 | Arizona: Stolen Ballots Found under a Rock on Side of Road in Glendale | [Breaking911] |
| LOW | 04 Nov 2020 | Police bar Republican and Democratic poll challengers at Detroit Ballot Counting Room | [Detroit News] |
| LOW | 04 Nov 2020 | Republican poll watchers denied access to Detroit vote count | [WJBK] |
| LOW | 04 Nov 2020 | President sues in Pennsylvania, Michigan; asks for Wisconsin recount | [AP] |
| LOW | 04 Nov 2020 | Georgia: Software Issue in Gwinnett County Delays Thousands of Mail-In Ballots | [WSB] |
| LOW | 03 Nov 2020 | South Carolina: Dorchester County Can't Count Its Absentee Ballots Because of Printing Problem | [Post and Courier] |
| LOW | 03 Nov 2020 | Poll Watchers Denied Access in Philadelphia | [Breitbart] |
| LOW | 03 Nov 2020 | 300 election lawsuits across 44 States... | [ABC] |
| LOW | 03 Nov 2020 | Dead People Caught Voting in NYC, Elections Records Show | [NY Post] |
| LOW | 03 Nov 2020 | Connecticut: Election Officials Work around Jammed Ballot Scanners | [WSHU] |
| LOW | 03 Nov 2020 | Street ballot box stuffing reportedly filmed in Philadelphia | [DJT Twitter] |
| LOW | 03 Nov 2020 | Texas: Upshur County voting machines to go down | [KYTX] |
| LOW | 03 Nov 2020 | Pennsylvania: Voting Machine Issues Caused Delays in Nanticoke | [WYOU] |
| LOW | 03 Nov 2020 | Ohio: Electronic check-in system fails, shift to paper pollbooks in Franklin County | [DJT Twitter] |
| LOW | 03 Nov 2020 | South Carolina: Wi-Fi, power woes slow voting | [Post and Courier] |
| LOW | 03 Nov 2020 | Georgia: Glitch causing major issues at polls in Spalding County | [WSB] |
| LOW | 03 Nov 2020 | County in Pennsylvania to offer provisional ballots to voters who already mailed in ballots missing an extra 'secrecy' envelope | [Daily Item] |
| LOW | 03 Nov 2020 | Georgia: Judge orders Postal Service to find ballots in Atlanta, elsewhere | [Atlanta Journal-Constitution] |
| LOW | 31 Oct 2020 | Thousands of Ballots in Pennsylvania May Be Missing | [Epoch Times] |
| LOW | 27 Oct 2020 | Texas Voting Machines Can't Read Mail-In Ballots, 22k Affected so Far | [CBS] |
| LOW | 23 Oct 2020 | PA Supreme Court Rules Counties Can't Reject Mail-In Ballots When Signatures Don't Match | [ZeroHedge] |
| LOW | 23 Oct 2020 | How to Steal an Election - Part III | [Gatestone Institute] |
| LOW | 21 Oct 2020 | Election Ballot Mail Thefts Reported in Portland | [KGW] |
| LOW | 15 Oct 2020 | Texas Poll Watcher Testifies on 2020 Voter Fraud in Houston, Has Photos | [National File] |
| LOW | 15 Oct 2020 | 29k Allegheny County Voters Received Incorrect Ballots, New Ones Being Mailed | [Pittsburgh Post Gazette] |
| LOW | 15 Oct 2020 | More than 100 Absentee Ballots Bound for Louisville Voters Found in Dumpster | [WDRB] |
| LOW | 15 Oct 2020 | Baltimore Ballot Box Security Guard Shot Overnight in 'Unrelated' Robbery | [CBS] |
| LOW | 13 Oct 2020 | Virginia Voter Registration Site down on Last Day to Register | [WUSA] |
| MOD | 11 Oct 2020 | Federal Judge Blocks Texas Gov Order Limiting Mail-In Ballot Drop-Off Locations | [Breitbart] |
| MOD | 09 Oct 2020 | 50,000 Ohio voters receive incorrect absentee ballot | [The Blaze] |
| MOD | 07 Oct 2020 | US Postal Service Mail Carrier Arrested for Dumping Mail Ballots | [Daily Wire] |
| MOD | 07 Oct 2020 | Thousands of Shredded Pennsylvania Mail-In Ballot Applications Discovered in Trailer | [Infowars] |
| MOD | 05 Oct 2020 | Florida voter registration website experienced outage hours before deadline | [Fox News] |
| MOD | 30 Sep 2020 | Memory Sticks Used to Program Philly Voting Machines Stolen from Elections Warehouse | [Reuters] |
| MOD | 29 Sep 2020 | At Least 1,000 Voters in Virginia Receive 'Duplicate Absentee Ballots | [Hannity.com] |
| MOD | 29 Sep 2020 | Observers Being Blocked Entry to Voting Locations in Philly | [Gateway Pundit] |
| MOD | 24 Sep 2020 | WI Absentee Ballots Found in Ditch as FBI Probes Discarded Military Ballots in PA | [ZeroHedge] |
| LOW | 23 Sep 2020 | Mail with Absentee Ballots Found in Ditch in Wisconsin | [WLUK] |
| LOW | 21 Sep 2020 | Judge Allows Extra Week for Counting Wisconsin Absentee Ballots | [Breitbart] |
| LOW | 18 Sep 2020 | Report: 349,773 Dead People on Voter Rolls Nationwide | [PJ Media] |
| LOW | 18 Sep 2020 | Michigan Joins Pennsylvania - Will Accept Late Ballots for 14 Days after Election | [Gateway Pundit] |
| LOW | 18 Sep 2020 | Pennsylvania Supreme Court Allows Mail-In Ballots to Be Counted after Election Day without Evidence of Postmark | [Breitbart] |
| LOW | 17 Sep 2020 | 400-Plus Michigan Overseas Ballots List Wrong Running Mate for POTUS | [Detroit News] |
| LOW | 08 Sep 2020 | Georgia Secretary of State Investigating 1,000 Voters Who Allegedly Knowingly Voted Twice | [Daily Caller] |
| LOW | 14 Aug 2020 | Postal Carriers Union Endorses Dem Presumptive Nominee | [NBC] |
| LOW | 14 Aug 2020 | USPS Warns Delays Could Prevent Mail-In Votes from Being Counted in Nearly Every State | [The Week] |
| LOW | 14 Aug 2020 | Pennsylvania Ballots Might Not Be Delivered in Time to Be Counted, Postal Service Warns | [The Week] |
| LOW | 10 Aug 2020 | Fec Commissioner: 'Substantial Chance' of No Results on Election Night | [The Hill] |
| LOW | 02 Aug 2020 | Ransomware attack could paralyze voting operations | [AP] |
| LOW | 24 Jul 2020 | Feds Accuse Ex-Philly Congressman of Stuffing Ballots | [CBS] |
| LOW | 13 Jul 2020 | Mail-in ballots may exceed States' ability to count them | [ABC] |
| LOW | 25 May 2020 | Philadelphia Election Judge Pleads Guilty to Ballot Stuffing | [Daily Signal] |
| LOW | 28 Feb 2020 | Hundreds of Dead Voters Registered for 2020 Election in Pennsylvania | [Youtu] |
| MOD | 06 Feb 2020 | Iowa Caucus Results Riddled with Errors and Inconsistencies | [MSN] |
| MOD | 04 Feb 2020 | Precinct Heads Told to Take Pictures of Caucus Results - Text to Manager - Who Will Drive It to HQ | [Gateway Pundit] |
| MOD | 04 Feb 2020 | Chaos in Iowa as State Democrats Blame 'Inconsistencies' on Delays | [UK Guardian] |
| MOD | 04 Feb 2020 | Iowa Democratic Party: App to tabulate Caucus results has crashed | [CNN] |
| HIGH | 09 Jan 2020 | 2.5 Million 'Extra' Registrants Found on Voting Rolls | [Breitbart] |
| LOW | 16 Dec 2019 | Georgia voter check-in tablets used default 1234 password | [Atlanta Journal-Constitution] |
| MOD | 06 Dec 2018 | NC Election Thrown into Chaos as Investigators Target 'Vote Harvesting' Scheme | [ZeroHedge] |
| HIGH | 18 Nov 2018 | Funny business in Congressional winner's sudden loss in the recount? | [American Thinker] |
| HIGH | 18 Nov 2018 | Florida Senate Race Heads to Manual Recount | [ZeroHedge] |
| HIGH | 18 Nov 2018 | Broward County 'Misplaced' over 2,000 Votes | [WTVJ] |
| HIGH | 12 Nov 2018 | Some Florida Panhandle Voters 'Cast Ballots by Fax or Email' | [Miami Herald] |
| HIGH | 10 Nov 2018 | Broward Mystery Boxes Tossed into Trucks after Missed Deadline | [ZeroHedge] |
| HIGH | 08 Nov 2018 | 40 hours after the polls close Florida Elections Supervisor previously convicted for illegally destroying ballots is still counting | [National Review] |
| MOD | 30 Oct 2018 | Voting Machines Changing Ballots in Texas | [Chicago Tribune] |
| LOW | 26 Oct 2018 | Texas Voters Report Voting Machine Problems | [CBS] |
| MOD | 17 Jul 2018 | Voting Machine Vendor Admits Installing Remote-Access Software | [Vice] |
| HIGH | 18 May 2018 | Judge says ballots were illegally destroyed in Florida house race | [Daily Caller] |
| MOD | 12 Mar 2018 | Dallas County DA investigating more than 1,200 mail-in ballot applications for voter fraud | [Dallas News] |
| LOW | 14 Dec 2017 | Alabama vote fraud? Doug Jones supporter says 'we came from different parts of the country' | [Infowars] |
| LOW | 28 Nov 2017 | States spurning election panel show irregularities in voter registration | [Daily Signal] |
| LOW | 22 Sep 2017 | Federal Government notifies 21 States of election hacking | [AP] |
| HIGH | 08 Sep 2017 | More than 5,000 out-of-state voters may have tipped New Hampshire in Presidential election | [Washington Times] |
| HIGH | 18 Aug 2017 | Census Bureau data: US has 3.5 million more registered voters than live adults | [Investors] |
| LOW | 21 Jul 2017 | Voter fraud database tops 1,000 proven cases | [Daily Signal] |
| MOD | 06 Jul 2017 | Rhode Island discovers 150,000 voters erroneously on rolls | [Daily Caller] |
| MOD | 05 Jul 2017 | Federal immigration agency balks at giving alien records to POTUS's voter fraud commission | [Washington Times] |
| MOD | 05 Jul 2017 | 44 States refusing to give full voter info to Federal panel | [CNN] |
| MOD | 04 Jul 2017 | Maryland denies 'repugnant' data request from Federal voter fraud commission | [Breitbart] |
| MOD | 01 Jul 2017 | NY Gov refuses Federal data request related to voter fraud | [ZeroHedge] |
| MOD | 27 Jun 2017 | Student sentenced to prison for registering dead voters as Democrats | [CNSNews] |
| LOW | 10 Jun 2017 | 12 staffers at Dem-linked group charged with voter fraud | [Daily Caller] |
| LOW | 18 Apr 2017 | Voting equipment stolen days before Georgia special election | [WSB] |
| MOD | 28 Jan 2017 | DHS Inspector General probing Georgia election system website scans | [Cyberscoop] |
| MOD | 28 Jan 2017 | Claim: 25 million dead and fraudulent 'registered voters' in 2016 | [Infowars] |
| LOW | 25 Jan 2017 | POTUS to launch 'major investigation into voter fraud' | [ZeroHedge] |